Drop Images Here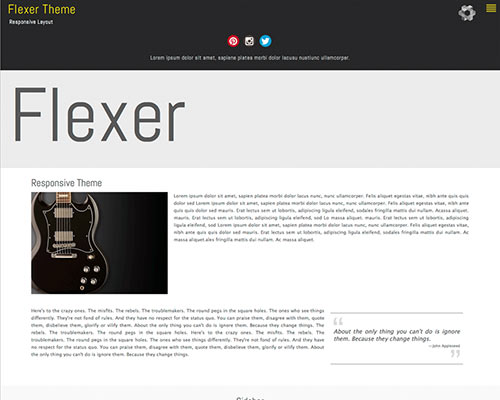 4 Configurations
Layout available in one, two and three columns.
Responsive Layout customizable
Options for: iPad / Galaxy / Win
The design will scale to fit on all mobile devices.
RESPONSIVE LAYOUT
BANNER IMAGE
Multiple layouts.
Color options for Layout and text.
Support for tablets Nexus and Galaxy
Options for iPad and iPhone
3 Extracontent areas
Link to home page in the logo image
Perfect logo ( autosize)

Multiple Widths
Vertical navigation
Fade-in effects
Photo Album with PrettyPhoto
Awesome icons + Plus code
Social Icon with Awesome Fonts
Styled Tooltip
26 Offline GoogleFonts
Back to top button

Responsive Options:
Build in support for iPad / tablets / iPhone / Smartphone

Style: Page Background:
10 big images ( customizable) + BANNER IMAGE (fit + tile)

Body CSS Filters with Slider

Brightness / Contrast / Saturate / Invert / Grayscale / Sepia / Opacity

Style: Page + Sidebar + ExtraContent 3:
Flat color, black and white transparent background.

Google WebFont: Classes + Titles (also offline):
26 fonts for classes, toolbar and sitemap page.

Style: Button + transparent gradient:
Navigation stiles.

Page Load Effects:
4 effects: Fade-in, Slide Horizontal / Verticval, Zoom, Off.

Navigation: Options:
- Show "MENU" text (In small devices)
- Text: Uppercase
- Text: Webfont Off
- Hide Icons background
- Centered text in Horizontal menu

BreakPoint: Left Column:
900, 1000, 1100, 1200 Pixel or Hide the Column.

BreakPoint: Page + Sidebar:
1200, 1100, 1000, 900 Pixel or Width 100%.

Variabile Width with Slider
950 to 2500pixel

Awesome icons + Plus code:
Full support for the Awesome icons with our "Plus" code. Simple code to animate text, icons and images. All social-icons are available through the Awesome font.

Combo options [+] :
Theme customized options are effective if easy to use. We have created a small list of favorite options to help you manage the theme easily and quickly. Each entry of the quick menu corresponds to a standard full menu!

- Content Text Size with Slider
- Layout: Extracontent 1 Padding Off
- Layout: Extracontent 1 Transparent Backgr.
- Layout: Extracontent 3 (in Sidebar) Padding Off
- Layout: Show Page Shadow
- Layout: Show Top / Bottom line
- Layout: Tooltip (choose color below)
- Layout: Content Font "Georgia"
- Back to Top Button
- Text justified
- Sitemap Page: Show structure
- Photo Album: PrettyPhoto SlideShow
- Force "Open link in new window" via Javascript